Phew! We have been busy. WizardWorld Columbus last wee, the Moonstruck Signing two weeks ago plus the #CurseWordsVanTour this weekend! Yet, even with all the happenings, Staff Picks must go on!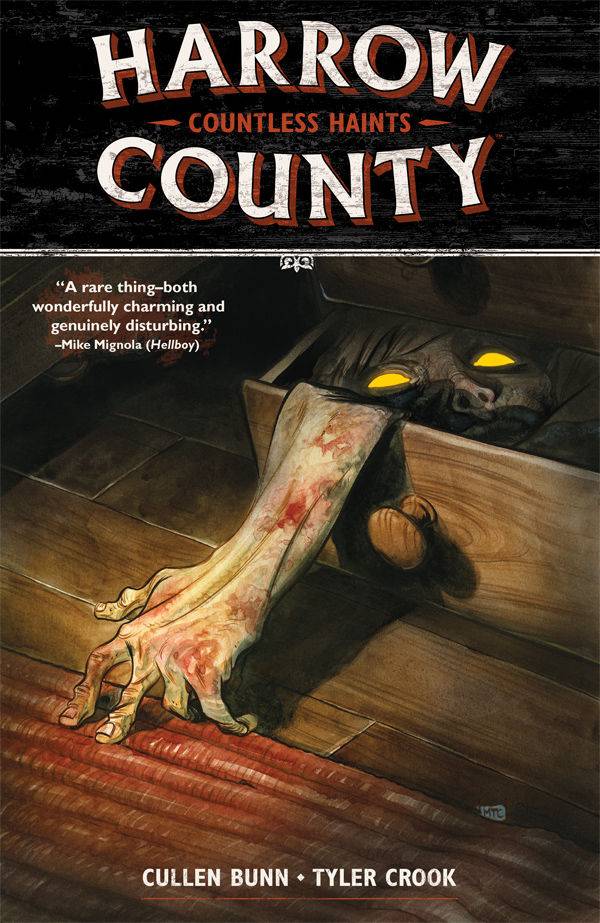 Gib's Pick
Cullen Bunn (Deadpool Kills the Marvel Universe) and Tyler Crook (B.P.R.D. Hell on Earth) introduce us to Emmy in Harrow County Vol 01, Countless Haints. Emmy finds out that she has ties to the strange and creepy things living in the woods. There's a lot about her community she doesn't know, and the more she finds out, the weirder things get. Cullen starts us on another epic journey through his imagination. Like his Sixth Gun, the longer the journey, the more intriguing the world. The art is both charming and creepy, not the easiest thing to pull off. The first volume is very good and by volume three this series is great!
And don't miss Dark Ark #1 shipping on 9/20. Cullen Bunn and Juan Doe (World Reader) tell us the story of the ark that saved all the "other" creatures from the flood. Vampires, manticores, dragons and more were on a second ark. The sorcerer Shrae must keep these creatures alive, and keep them away from the other ark if he's to receive his reward from his dark master. Come in and place your pre-order today.
Lauren's Pick
It's 1987 and things are not looking awesome for Marcus Lopez Arguello. He's homeless, his parents are dead, and as if things weren't bad enough someone just stole his shoes. If there's one thing he really doesn't need, it's lessons on how to kill people. But that's exactly what he's going to get! Rick Remender (Captain America, Black Science) is in his element channeling his own punk-rock adolescence with admirable assist by artist Wes Craig (Blackhand Comics). However, colorist Lee Loughridge (Wolf) remains the true MVP of this creative team, providing color schemes dramatic enough to match the events of this wild ride.
Mike's Pick
Exploring religion, racism, morality, and family dynamics, A God Somewhere by John Arcudi (Rumble) and Peter Snejbjerg (Starman) is a bit of a hidden gem. Initially published as an OGN by Wildstorm in 2010, this Vertigo book explores what happens to an everyman when he's inexplicably bestowed with godlike powers. Existential and ambiguous, this violent and moody tale tracks the downfall of the ubermensch and the impact he has on his friends and family as his powers lead to alienation and mass murder. A God Somewhere asks many questions but, I think, leaves it to the reader to decide if there are any answers. If you don't want to look that deep, though, the book still offers a solid sci fi story told well. Recommended for fans of Watchmen, Astro City, and Philip Wylie's novel, Gladiator.
We have more staff picks to come, so keep your eyes here. Or come in for a visit and we can talk you into even more great stories!