From one crazy weekend to the next with a few Staff Picks in-between. Here are the books we think you should already be reading!
Inhumans By Paul Jenkins and Jae Lee TP
Gib's Pick
The Inhumans were never that interesting to me, until I read Paul Jenkin's (Alters, Replica) Inhumans. He made their world far more interesting and I cared about the characters for the first time. Jae Lee's (Batman/Superman N52) art on this series is phenomenal, he absolutely makes this story special. This book is a great read
Lauren's Pick
The incredible Katie Skelly (Operation Margarine) explores complex themes of love and possession in this delightfully self-aware spin on vampire fiction. A pampered prisoner in her brother's richly decorated mansion, the vampiric Clover is as ageless and beautiful as the statues that populate her environment. Guided by thirst and governed by her instinctive need to survive, Clover embarks on a blood-soaked odyssey through the mortal world. Skelly is one of my top favorite cartoonists working today for her varied depictions of women on journeys of accidental self-discovery, and My Pretty Vampire certainly does not disappoint! Her talent as an artist and designer is on full display in this book, particularly in the ambiguous dream sequences providing hints at the main character's past. Also, there are many excellent color schemes and cute outfits, so really nobody has an excuse not to buy this book.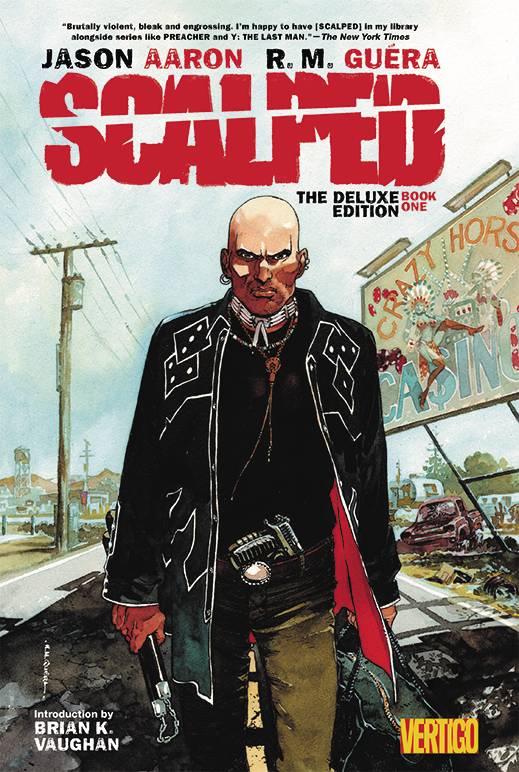 Scalped HC Book 1 Deluxe Edition
Mike's Pick
Blending Noir with the Western, Scalped is the story of various fascinating characters that inhabit the Prairie Rose Reservation. Issues of race, poverty, and addiction are explored in a thrilling crime/action milieu by series creators Jason Aaron (Southern Bastards) and RM Guera (The Goddamned). The flawed Dash Bad Horse is our window into this world as he infiltrates Chief Lincoln Red Crow's criminal organization. Those looking for straight up "good guys" and "bad guys" need not apply, though, as morality gets as murky as a dirty (and bloody) creek bed. The writing is as good as it gets in comics and Guera's art evokes the best Spaghetti Westerns. Violent and complex, Scalped is one of my all-time favorite series.
DC Comics Bombshells Vol 1
Sarah's Pick
Do you like the movie A League of Their Own? Have you ever found yourself wondering "What if the Rockford Peaches were also vigilantes who fought the Nazi regime in-between games?" WONDER NO MORE. DC Comics Bombshells is the book for you! The team is led by Kate Kane (aka Batwoman) in Gotham City, her fellow "Batgirls," Wonder Woman, Supergirl, Stargirl, and Mera, who band together to defeat the growing forces of fascism amidst the backdrop of WWII. Based on the bombshell pin up designs from Ant Lucia and written by Marguerite Bennet (Animosity, Batwoman - Rebirth), this book is beautiful, fun, smart, topical, and gay.
That is all for this week! Well... At least here. Come on into the store and we can hand you more fantastic books just like these!